---
6 RESEARCH ARTICLES + 15 GRAPHICS – CLICK ON GRAPHIC TO ENLARGE
---
– THE AGING POPULATION NEEDS MORE PROTEIN
– FOR WORKOUT PROTEIN GO TO → NUTRITION – PROTEIN – PRE/DURING/POST WORKOUT
---
---
---
---
CPP HUMAN PERFORMACNE LAB – 2018
February 2018
– 8 weeks of training in
female physique competitors
– The high protein diet (2.5g/kg/day) resulted in a significant loss of fat mass while the lower protein diet failed to elicit any significant change
– The high protein diet also produced a significant increase in fat free mass which was a change signficantly greater than the low protein diet
– Although this study presented with some methodological limitations (like every study to some degree), the body of scientific literature corroborates these findings, further adding to the importance of protein intake in the optimization of body composition across multiple scenarios including, caloric deficit and/or muscle hypertrophy training.
---
HOW MUCH PROTEIN CAN THE BODY USE IN A SINGLE MEAL FOR MUSCLE-BUILDING? IMPLICATIONS FOR DAILY PROTEIN DISTRIBUTION – 2018
---
Brad Schoenfeld and Alan Albert Aragon
INTRODUCTION
– Controversy exists about the maximum amount of protein that can be utilized for lean tissue-building purposes in a single meal for those involved in regimented resistance training
– It has been proposed that muscle protein synthesis is maximized in young adults with an intake of ~ 20–25 g of a high-quality protein; anything above this amount is believed to be oxidized for energy or transaminated to form urea and other organic acids
– However, these findings are specific to the provision of fast-digesting proteins without the addition of other macronutrients
– Consumption of slower-acting protein, particularly when consumed in combination with other macronutrients, would delay absorption and thus conceivably enhance the utilization of the constituent amino acids
PURPOSE & METHODS
1) to objectively review the literature in an effort to determine an upper anabolic threshold for per-meal protein intake
2) draw relevant conclusions based on the current data so as to elucidate guidelines for per-meal daily protein distribution to optimize lean tissue accretion
– Both acute and long-term studies on the topic were evaluated and their findings placed into context with respect to per-meal utilization of protein and the associated implications to distribution of protein feedings across the course of a day
RESULTS
– The preponderance of data indicate that while consumption of higher protein doses (> 20 g) results in greater AA oxidation, this is not the fate for all the additional ingested AAs as some are utilized for tissue-building purposes
CONCLUSIONS
– To maximize anabolism one consume protein at a target intake of 0.4 g/kg/meal across a minimum of 4 meals in order to reach a minimum of 1.6 g/kg/day
– Using the upper daily intake of 2.2 g/kg/day reported in the literature spread out over the same 4 meals would necessitate a maximum of 0.55 g/kg/meal
---
RECENT PERSPECTIVES REGARDING THE ROLE OF DIETARY PROTEIN FOR THE PROMOTION OF MUSCLE HYPERTROPHY WITH RESISTANCE TRAINING – 2018
---
Tanner Stokes, Amy J. Hector, Robert W. Morton, Chris McGlory and Stuart M. Phillips
– Skeletal muscle mass is regulated by the processes of muscle protein synthesis (MPS) and muscle protein breakdown (MPB), both of which are sensitive to external loading and aminoacidemia
– Hyperaminoacidemia (an excess of amino acids in the bloodstream) results in a robust but transient increase in rates of MPS and a mild suppression of MPB
– Resistance exercise potentiates the aminoacidemia-induced rise in MPS that, when repeated over time, results in gradual radial growth of skeletal muscle (i.e., hypertrophy)
– Factors that affect MPS include both quantity and composition of the amino acid source
– Specifically, MPS is stimulated in a dose-responsive manner and the primary amino acid agonist of this process is leucine
PRACTICAL RECOMMENDATIONS
---
INDIVIDUALS IN ENERGY BALANCE (not cutting calories)
– Consume ~0.4 g/kg body mass (i.e., 0.24 plus 0.06 with protein added to account for the influence of other macronutrients in meals and protein quality), to maximally stimulate MPS following a period of rest or exhaustive resistance exercise

– Spacing protein-containing meals ~3–5 h throughout the day maximizes MPS rates over the course of a 12 h (i.e., waking) period

– Practice pre-sleep protein ingestion (1–3 h prior to sleep) to offset declines in MPS that would occur during an overnight fasting period

– To maximize muscle protein accretion with resistance exercise, daily protein intakes should be ~1.6 g/kg/day and up to 2.2 g/kg/day; ex: 80kg or 176lbs = 130 to 176 g/day

– This intake can be achieved by ingesting 3 meals, each containing ~0.53 g/kg protein, or 4 meals containing ~0.4g/kg protein
INDIVIDUALS IN ENERGY RESTRICTION (cutting calories)
– Daily protein requirements are greater than they are during period of energy balance to promote the maintenance or increase in lean body mass

– Resistance exercise should be performed during energy restriction to promote the retention of lean body mass if desired

– For athletes 'cutting' weight over an extended period, high quality protein sources such as whey and casein, or a blend of each, should be chosen to optimize appetite control and ensure dietary compliance

– To promote lean body mass retention during weight loss, protein intakes of ~2.3–3.1 g/kg/day have been advocated; ex: 80kg or 176lbs = 185 to 250 g/day

– Non-exercising adults who have a greater body fat % should aim to achieve the lower end of this range, whereas leaner individuals with resistance-training experience who are more vulnerable to losing lean body mass during energy restriction might aim for the higher end of this range.
NOTE: Moore et al. [33] showed that 0.24 g/kg +0.06 body mass of protein maximally stimulated rates of MPS in younger males, but ~0.40 g/kg body mass of protein is required in older adults to achieve a comparable stimulation of MPS
---
THE EFFECT OF PROTEIN SUPPLEMENTATION ON RESISTANCE TRAINING GAINS IN MUSCLE MASS AND STRENGTH – 2018
---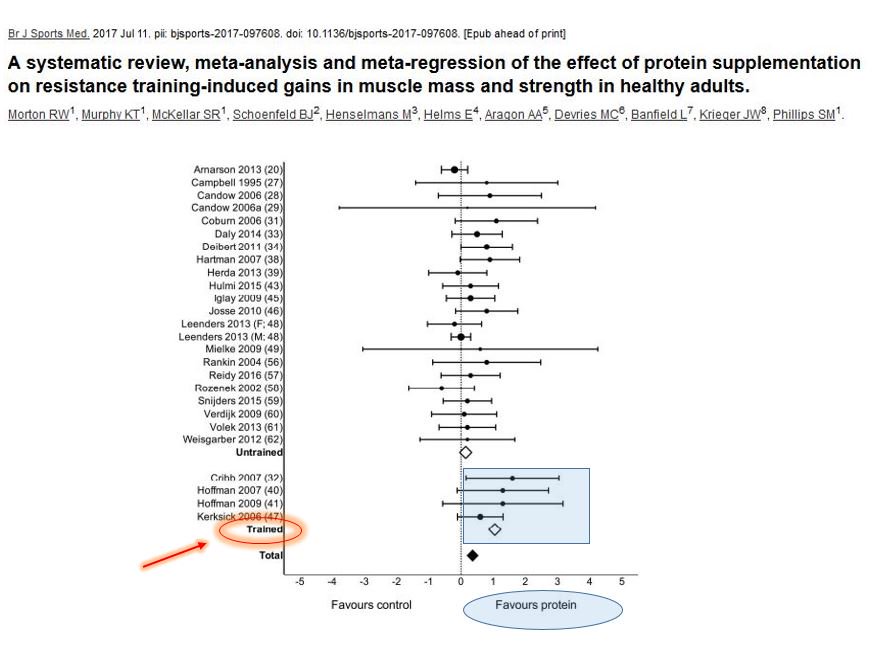 ---
Robert W Morton1, Kevin T Murphy1, Sean R McKellar1, Brad J Schoenfeld2, Menno Henselmans3, Eric Helms4, Alan A Aragon5,Michaela C Devries6, Laura Banfield7, James W Krieger8, Stuart M Phillips1
ELIGIBILITY CRITERIA
– Only randomised controlled trials with RET ≥6 weeks in duration and dietary protein supplementation.
DESIGN
– Determine the relationship between total protein intake and changes in fat-free mass (FFM)
RESULTS
– Data from 49 studies with 1863 participants
– Showed dietary protein supplementation significantly increased changes in: strength—one-repetition-maximum, FFM and muscle size—muscle fibre cross-sectional area and mid-femur CSA during periods of prolonged RET
– The impact of protein supplementation on gains in FFM was reduced with increasing age and was more effective in resistance-trained individuals
– Protein supplementation beyond total protein intakes of 1.62 g/kg/day resulted in no further RET-induced gains in FFM
– NOTE: Look at age related needs for more protein
SUMMARY/CONCLUSION
– Dietary protein supplementation significantly enhanced changes in muscle strength and size during prolonged RET in healthy adults
– Increasing age reduces and training experience increases the efficacy of protein supplementation during RET
– With protein supplementation, protein intakes at amounts greater than ~1.6 g/kg/day do not further contribute RET-induced gains in FFM
---
HOW MUCH PROTEIN TO BUILD MUSCLE? – 2017
---
SUMMARY of ARTICLE – October 18, 2017 – Stuart Phillips
INTRODUCTION
– We can ingest a lot of protein and break it down, and digest it, but how much is used to build muscle?
– Protein's made up of 20 amino acids (AA) of which 11 are essential (EAA) so we need to eat enough protein to get the EAA
– Digested proteins release AA into circulation after the liver has taken its 'share' letting ~30% of AA we ingest into circulation
– The branched-chain AAs (BCAAs) leucine, isoleucine, and valine are not used by the liver and are released for use by other tissues
LEUCINE
– Leucine is the king AA, it turns on the anabolic signalling pathways and initiates muscle protein synthesis (MPS)
– Once leucine has 'switched on' MPS then this process proceeds for a relatively short period of time (1-2h) until it is switched off
– At some point you cannot stimulate MPS any further; so there is a finite amount of AA that are needed
– It may be that once leucine has activated MPS that even small quantities of protein are needed to support a continued MPS response
FATE OF AMINO ACIDS
– The capacity for AA to stimulate MPS is limited and appears to 'top out' at around 0.25-0.4 g protein/kg bodyweight
WHY 0.25-0.4 g PROTEIN/KG BODYWEIGHT?
– Three studies form an evidence-basis for the value of 0.25-0.4 g protein/kg
– Studies: Moore (1) Witard (2) reached virtually same conclusion: ~0.25 g protein/kg maximally stimulated MPS regardless of whether protein was isolated egg or whey, respectively
– Study: McNaughton (3): MPS in the legs was 19% greater when young men ingested 40g of protein than 20g
– However, the 'added' stimulation of MPS is small: 11% by Moore and 10% by Witard, and 19% by Macnaughton, respectively
– This doesn't really indicate that 40g is anywhere near twice as good as 20g in terms of MPS, but likely something like 15% better… not likely important in terms of lean mass gain
MUSCLE PROTEIN BREAKDOWN
– We don't know what happens to MPB with increasingly large doses of protein
– We do know that MPB is reduced by insulin which almost universally increases when we're fed protein and/or carb and that it doesn't take much insulin to maximally supress MPB
– Kim (4): larger doses of protein (70g vs 40g consumed as beef) suppressed whole-body protein breakdown (WBPB) to a greater degree than a smaller dose
– There are no data showing how well WBPB and MPB align and while muscle is part of WBPB it's only ~20%.
SO HOW MUCH PROTEIN CAN YOUR BODY USE TO MAKE PROTEIN?
– I'd say between 0.25-0.4 g protein/kg/meal
– The dose is likely to be higher when we're eating real food, however
– A meta-analysis from our lab showed that the hypertrophic response at protein intakes above ~1.6 g/kg/d was not associated with greater increases in lean mass
– Thus, 1.6 ÷4 meals per day = 0.4 g protein/kg/meal or 0.53 g protein/kg/meal if 3 meals were consumed
– Perhaps it's as high as 2.2 g protein/kg/d. Now, you can eat, digest, and absorb more protein (a lot more), I don't doubt that, but it doesn't build muscle.
KEY TAKEAWAYS
1. AA from protein stimulate MPS in dose-response fashion
2. MPS is maximally stimulated, when isolated high-quality proteins are consumed, at a dose of ~0.25-0.4 g protein/kg/meal
3. Leucine is the critical AA that switched on MPS
4. MPB is supressed with protein intake and the resultant insulinemia, but it appears that this occurs at low doses of protein/insulin
5. Analysis of available data suggests that at a daily intake of ~1.6 g protein/kg/d appears to be close to optimal for building muscle
6. The highest level of protein ingestion that may yield muscle building benefit is ~2.2 g protein/kg/d
7. You can ingest more protein than 2.2 g/kg/d, but it will not help build muscle
REFERENCES
1. Moore, Tarnopolsky, Phillips; Ingested protein dose response of muscle and albumin protein synthesis after resistance exercise in young men. AJCN 2009
2. Witard, Tipton; Myofibrillar MPS rates subsequent to a meal in response to increasing doses of whey protein at rest and after resistance exercise. ACJN 2014
3. Macnaughton, Tipton; The response of MPS following whole-body resistance exercise is greater following 40 g than 20 g of ingested whey protein. Physiol Rep 2016
4. Kim, Wolfe; The anabolic response to a meal containing different amounts of protein …. AJPEM 2016
---
THE EFFECT OF PROTEIN SUPPLEMENTATION ON RESISTANCE TRAINING GAINS IN MUSCLE MASS AND STRENGTH IN HEALTHY ADULTS – 2017
---
Morton RW1, Murphy KT1, McKellar SR1, Schoenfeld BJ2, Henselmans M3, Helms E4, Aragon AA5, Devries MC6, Banfield L7, Krieger JW8, Phillips SM1.
OBJECTIVE
– If protein supplementation augments resistance exercise training (RET)-induced gains in muscle mass and strength
RESULTS
– Protein supplementation significantly increased changes in:
(1) strength-one-repetition-maximum
(2) FFM and muscle size-muscle fibre cross-sectional area and mid-femur CSA during periods of prolonged RET
(3) Impact on gains in FFM was reduced with increasing age and was more effective in RET individuals
(4) Protein supplementation beyond total protein intakes of 1.62 g/kg/day resulted in no further RET-induced gains in FFM
---